Time management apps have become really trendy these days thanks to their ability to help people efficiently meet deadlines, de-stress themselves, increase their output, and achieve more in a day. The effective ones track your time. Also, they let you know where your time is being wasted, but there is more to this. Actually, every time management app has its own unique features. These features make it really hard to choose the right one you truly need. So, we have inspected a list of the best time management apps from to-do list apps, task/project managers, and habit/time/goal setting trackers. We hope it can help you boost your productivity on an individual or professional level.
1. Google Keep
A simple yet necessary time management app for getting an unlimited number of notes down really fast. Arrange all of your ideas, reminders, and shopping lists together and get them from your other devices whenever you want as long as they are connected to your Google Account. You can take notes by typing, audio, or drawing input, set reminders for your notes, and assign labels or colors to them, both bulleted lists and checklists that let you tick tasks off when you are done. Pin the ones that you use often to the top. Download Google Keep to your IOS or Android phone and have it automatically synced and visible on the right panel when you work in Gmail, Google Drive, G. Calendar, G. Sheets, or G. Docs.
Some of the Current App Features: Sync- Share- Embed Note Links- Tag Notes- File Attachments- Email Notes- Web Clipper- Voice/Video Recorder- Handwriting Support- Ink-to-Text Conversation- OCR (Optical Character Recognition)- IFTTT/Zapier (Integration Tools)
Pros: Totally Free, Reminders, User Friendly, Voice Notes, Limitless Notes
Cons: No Text Formatting, 20,000 Character Limit for Each Note, Lacks a Desktop app
Competitors: Evernote- OneNote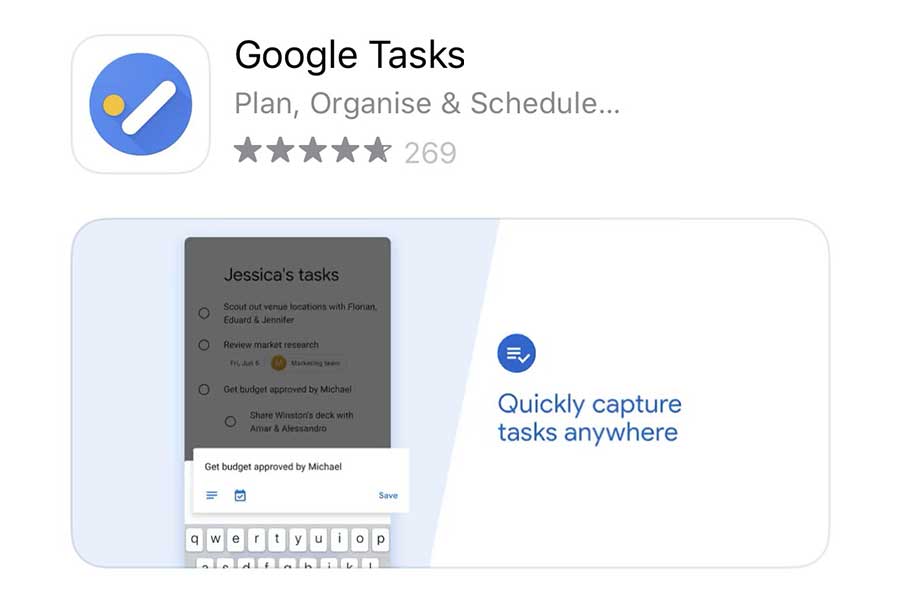 2. Google Tasks
With this, one of the simplest yet effective time management apps, you would be able to manage your tasks based on priority. In particular, create multiple lists, even subtasks below parent tasks, and assign dates to items. The Gmail Integration, the most impressive feature of this app, lets you turn your emails into to-do list items. However, with the new version, you can import Google reminders into tasks, create repeating ones, and receive a notification for any task you want. Download Google Tasks to your IOS or Android phone and have it automatically synced and visible on the right panel when you work in Gmail, Google Drive, G. Calendar, G. Sheets, or G. Docs.
Some of the Current App Features: Sync- Share- Change the Order of Tasks- Move Tasks to Other Lists- Add Reminders from Google Calendar- Add Subtasks- Store in Google Drive- Rename Lists- Integration with Gmail/Google Calendar
Pros: Free, Clean UI, Printable To-do List
Cons: No Delegation within the organization (It's nothing more than a to-do list/ Task Manager)
Competitors: Microsoft To Do (Formerly Wunderlist)- Todoist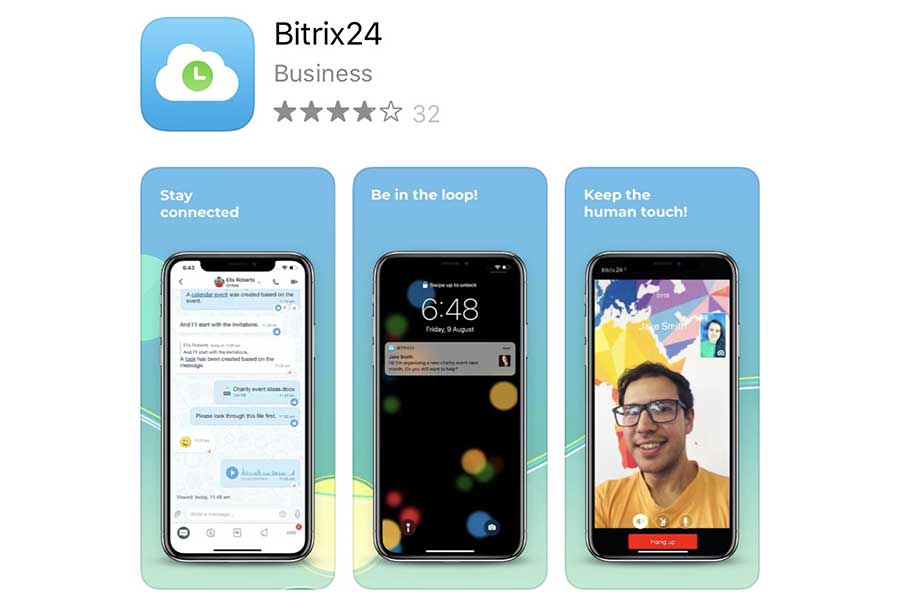 3. Bitrix24
Made as a corporate tool, it has a galore of everything and task management is one of them. Apart from using it for yourself, you can use it throughout your company and benefit from a whole lot of useful features like CRM, Tasks, Workgroups, Web Chat, and more. Bitrix is free for small companies (up to 12 users), but you should pay for additional disk space and some optional features. A really great option among time management apps for professionals. The larger companies also have a choice of buying a box version that has everything and access to the code. Plenty of companies on the market can support the customization developments and ease of transferring your organization to start using the great time management app.
Some of the Current App Features: Virtual Telephone Calling- Instant Messages- Task Reporting- Project Groups- Sales Funnel- CRM with reports and easy customization – Workflow- Time Management- File Sharing- Photo Albums- User Profiles- Bulk Email- Email Notification- Extranet- Own app store with hundreds of apps available for purchase that can help you in almost any process in the organization including time management.
Pros: Free for the basic version, Comprehensive Function for Intranet Services (It can support all kinds of files)
Cons: Limited Mobile App Functionality, Somewhat Customer Service but if you are an organization we suggest hiring a development company that can help you configure all the depth as it will be difficult to do it by yourself as at first look the interface might look confusing.
Competitors: Monday.com, Wrike, Trello, Asana but none of them have all the depth that Bitrix has.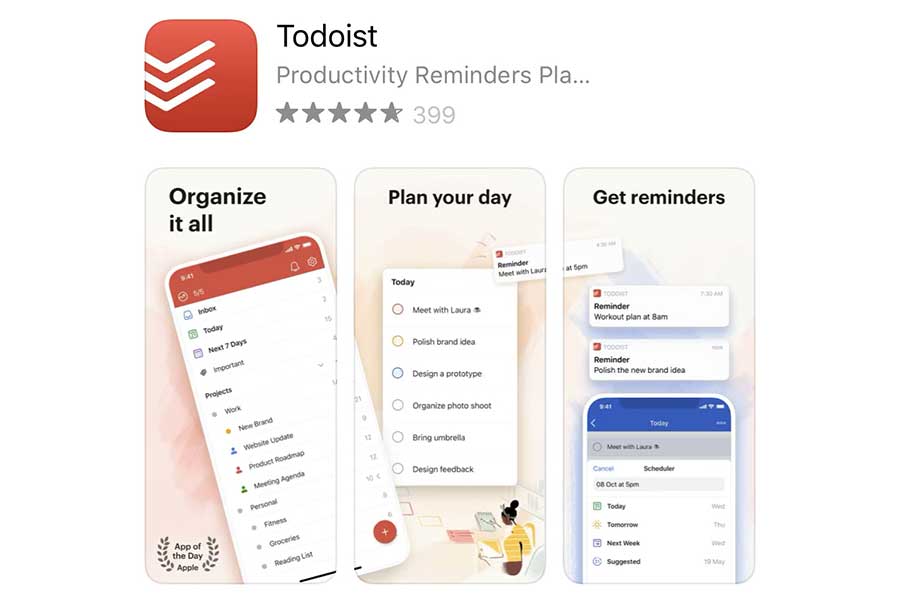 4. Todoist
From project management for small and midsize businesses to daily tasks, Todoist has something to offer. Plan assignments to staff, keep track of what everyone is doing and communicate on each task via the comment section. On a personal level, this 2019 editor's choice app is one of the best time management apps for list-making and recurring tasks that you need to do regularly. Unfortunately, a lot of basic features are unavailable unless you upgrade to premium.
Some of the Current App Features: Gmail Integration- Delegate Tasks- Productivity Visualization- Todoist Karma- Sections and Subtasks-
Pros: Todoist Karma Points System, Supports a Wide Range of Platforms, Clean UI
Cons: The free version is really limited, 300 Task Limit to Every Project, No Task Hierarchy, Not Suitable for Long/Large Projects
Competitors: Google Tasks, TickTick, Microsoft To Do (Formerly Wunderlist), Remember the Milk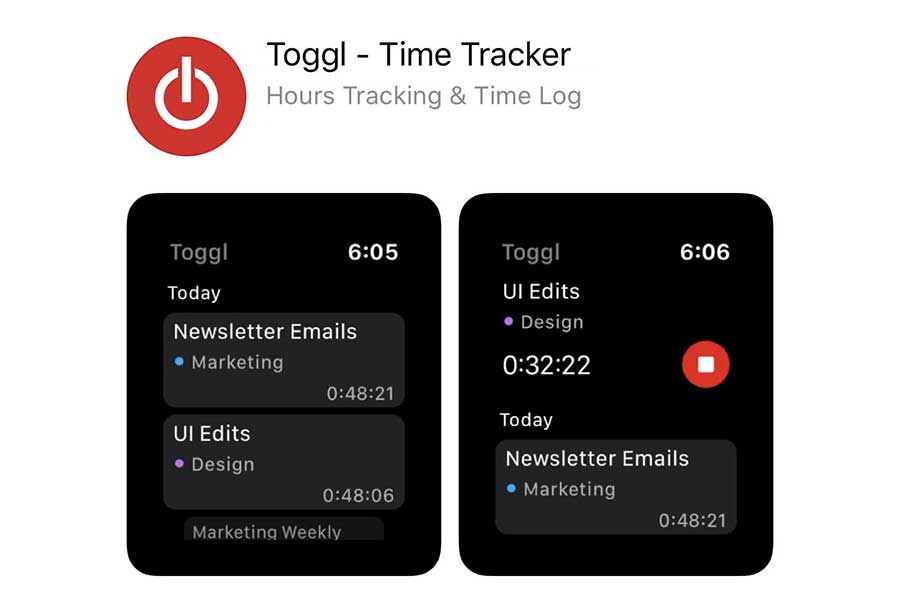 5. Toggl
Useful time management app for contractors, students, and anyone else who wants to track time spent on tasks. With the generous basic features that Toggl offers, everyone can have access to core time-tracking tools, working offline, weekly reports, and the opportunity to create an unlimited number of projects. A few team-management features (up to 5 teams) are also available on the free plan.
Some of the Current App Features: Tags (Toggl's 3-Stage Hierarchy)- Pie/Bar Charts- Day-by-Day Breakdown- Share Reports- Handy Overview of Time Spent- Pomodoro Timer with The Toggl Button Browser Extension
Pros: Very Intuitive, Works on Multiple Platforms, Effective Built-in Timer, Popup for Idle Time (Desktop App), Brilliant Reporting System
Cons: No Invoicing Tool
Competitors: Harvest, Rescue Time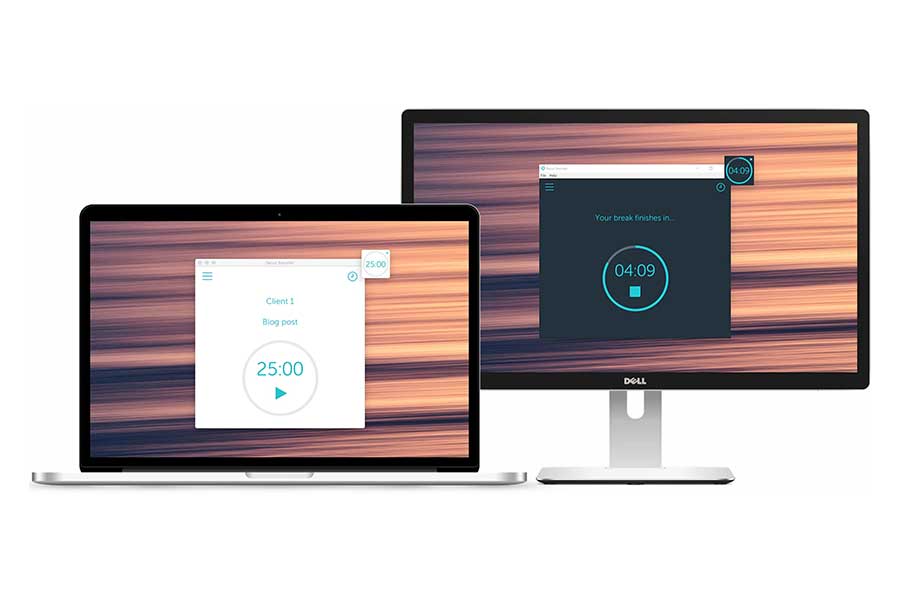 6. Focus Booster
If you are looking for a Pomodoro Timer with extra features like a to-do list and time tracking with an intuitive design, Focus Booster is a great solution. One of the best time management apps which puts both the Pomodoro Technique and Zeigarnik Effect at work (saves incomplete sessions). This app is free for up to 20 Pomodoros per month. Currently, it is only available on the web app because they decided to retire their mobile apps.
Some of the Current App Features: Automatic Long Break- Notification Reminders- Browser Tab Count Down (Shows How Much Time is Left)- Session Notes (Add Notes at the end of each Session)- Pomodoro Count (See the Number of the Pomodoros you had for the Day)
Pros: Simple to Use, Inexpensive (4.99 $ per month for the professional plan)
Cons: Only works on a browser, Time Tracking Feature is only on the professional plan
Competitors: Kanbanflow, Focus To Do, Tomighty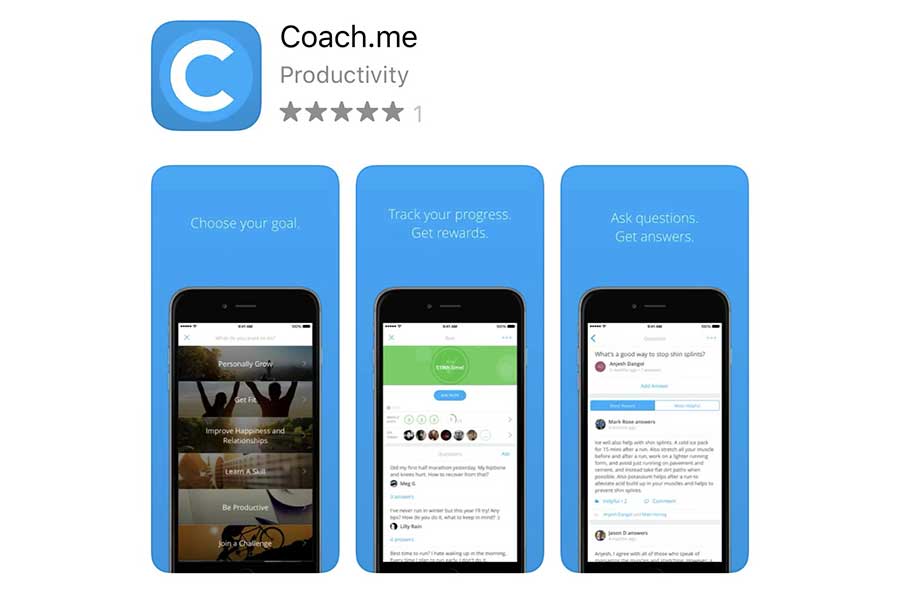 7. Coach.me
Does it seem difficult to adopt new habits, set your morning rituals right, and develop a proactive mindset? Coach.me will help you lay your life goals out. Meant to be your personal coach, this app is one of the best existing habit/goal trackers with different coaching levels: self-coaching, community coaching, and personal coach.
Some of the Current App Features: Habit Tracker- Personal Coaching- Clean Interface- Note Section for Reminders
Pros: Split Your Personal Goals to Subcategories,
Cons: The Community Based System sometimes leads to contradictory responses
Competitors: Way of Life, HabitBull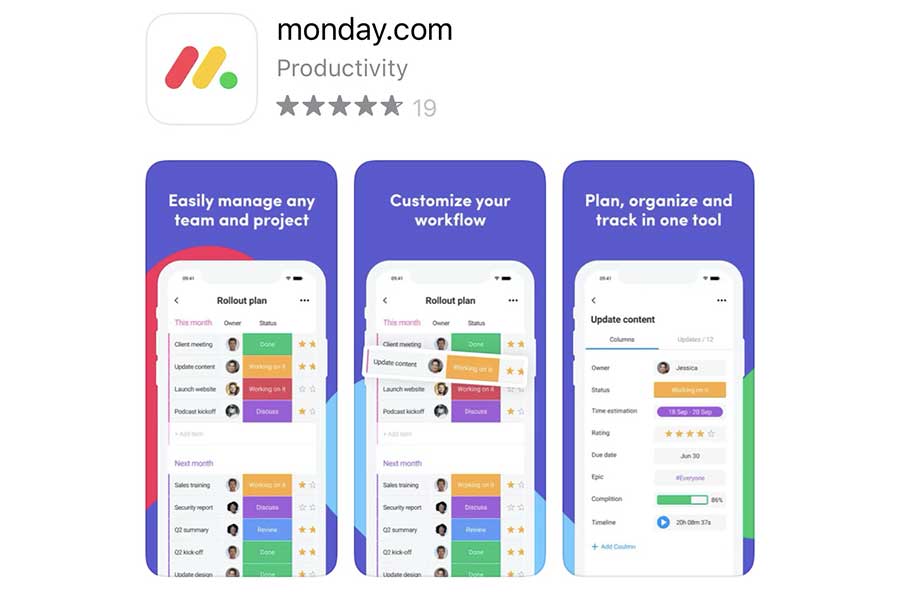 8. Monday.com
Another great and efficient app on our list of time management apps, seems like a pro version of Google Sheet, however, you experience a more smooth team and project management with monday.com. BBC STUDIOS, Hulu, eBay, Uber, and many more giant companies use this app for a reason! Assign tasks and stay updated! Integrate with your tools and organize your goals.
Some of the Current App Features: API- Gantt Charts- Batch Permissions & Access- Budgeting- Expense Tracking- Calendar Management- Customer Management- Data Import/Export- Task Tracking/Scheduling- Notification- Resource Management
Pros: Establishes a Workflow
Cons: Pricey (from 25$ per month)
Competitors: Bitrix, Microsoft Project, Trello, Airtable, Asana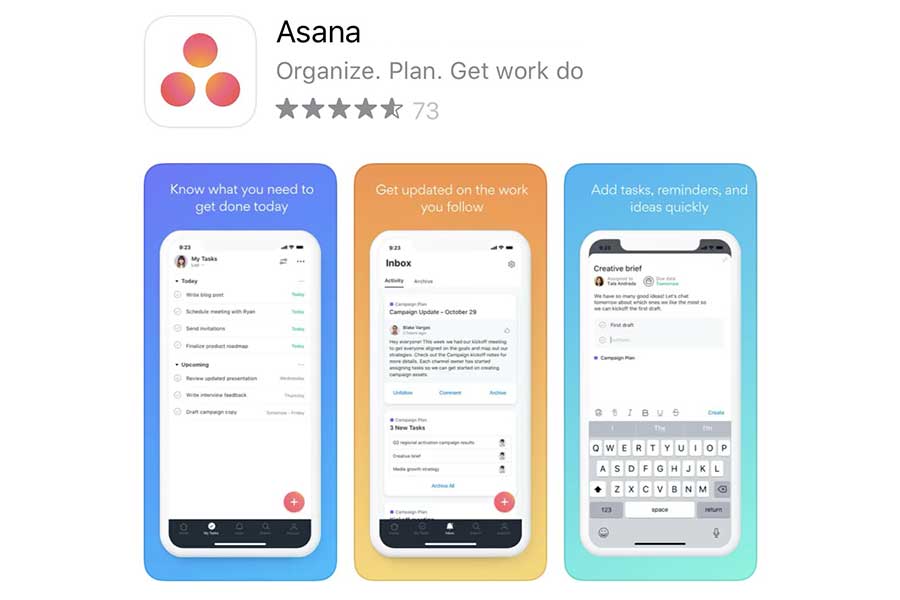 9. Asana
We have mentioned Asana as a rival to some of the previous time management apps. So, it makes sense that we dedicate this section to this amazing productivity app. Asana is useful on both personal and professional levels. Set priorities/deadlines, assign tasks to your team members, and track different pieces of a project across complex team structures and time zones, all in one place!
Some of the Current App Features: API- Calendar/Contact Management- Data Import/Export- Dashboard- Expense Tracking- Gantt Charts- Task Scheduling/Tracking
Pros: Easy-to-navigate UI, Well-Suited for Companies with Employees in Different Time Zones
Cons: Limited Function in Mobile app
Competitors: Bitrix, Monday.com, Wrike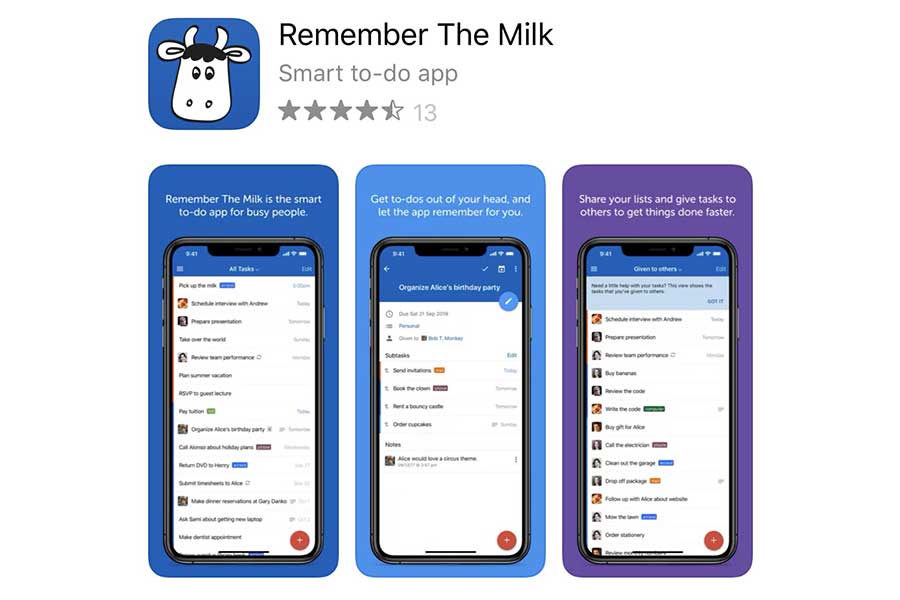 10. Remember the Milk
An old-fashioned yet highly functional to-do list app that integrates with G Suite. You can share your to-do list with two other people on the free version and get reminders through twitter, Gmail, and IM (not inside the app with the free version). If you want to use it as a task management app within your company, it's better to upgrade to the pro account.
Some of the Current App Features: Sync- Share- Add/Edit Tasks- Reminder(via email)- Smart Lists (Your Favorite Searches)- G Suite Integration- Ability to Organize Based on Priorities, Tags, Due Dates, Repeats, Lists & More
Pros: Syncs across all platforms, Free version has most of what you might need, Works Offline (Pro Version)
Cons: Requires More Manual Input Compared to Other Similar Apps, The Subscription Price for the Full Version is a bit High (Compared to the Similar apps)
Competitors: Todoist, Microsoft To Do, Asana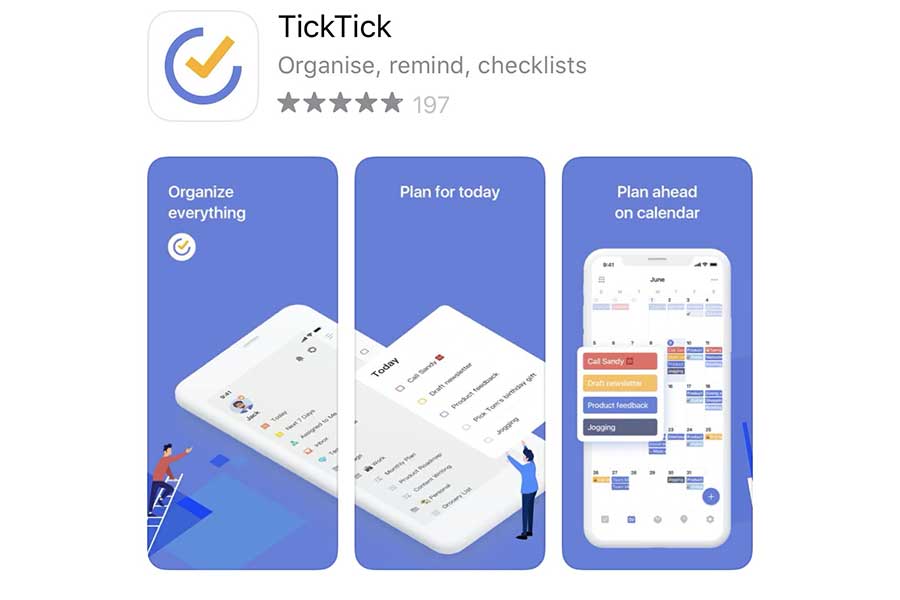 11. Tick Tick
Tick Tick is one of the most popular among all of the time management apps. In addition, it is very similar to Todoist but with a few perks on the freemium version that Todoist totally lacks. like the Pomo timer, different folders for your separate projects (work, study,…), and calendar view. The whole design is based on GTD (Getting Things Done), a time management method provided by productivity consultant David Allen.
Some of the Current App Features: Discussion Board- Built-in Pomo Timer- Calendar/Task/Content/Product Management-
Pros: View Your Tasks on a Calendar, Unlimited Storage Space
Cons: Several Pop-ups on the Free Version
Competitors: Todoist, Asana, Microsoft To Do, Trello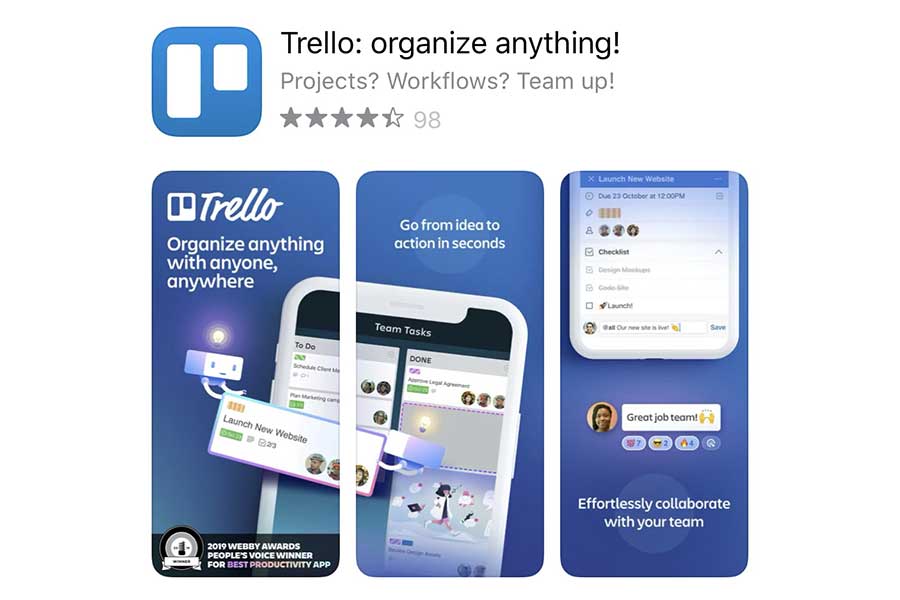 12. Trello
A kanban style app with an easy to use UI and a plethora of benefits for project management. Also, Trello uses a three-tier information system comprising flexible boards, cards, and lists. Finally, one of the best options for group work on our list of time management apps, whether you are a student or a professional.
Some of the Current App Features: Share- Real-time Sync- Easy Organization(Tags, Categories, Labels, Checklists)-
Pros: Segregation of Tasks
Cons: Clunky Integration, Limited Bulk Actions
Competitors: Monday.com, Wrike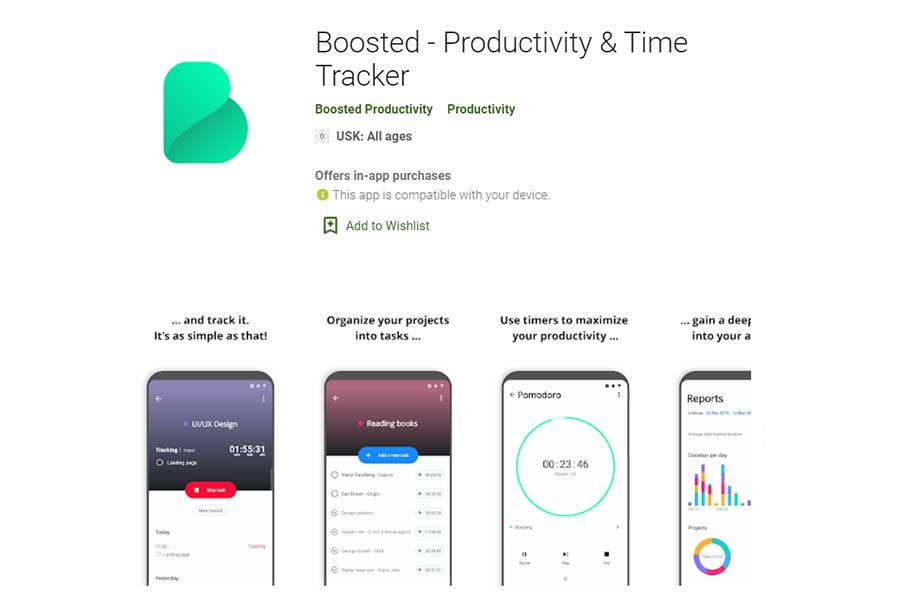 13. Boosted
The Winner of Google Play Best of 2019, is a productivity and time tracking app that lets you achieve more by understanding your habits with perceptive reports, Pomodoro timer, and many other tools. Hence, the unique feature of this app is that it shows you your productive day based on the number of the tasks you do.
Some of the Current App Features: No Ads- Dark Mode- Widget- Pomodoro Timer- Export Data to CSV- Sub Tasks- Google Drive Backups- Detailed Statistics- Calendar View- Play/Pause Projects
Pros: Shows Uncompleted Tasks First, Intuitive Design, Tracks Down Projects in General or Tasks within Projects
Cons: No Desktop Version Yet
Competitors: Todoist- Asana- Tick Tick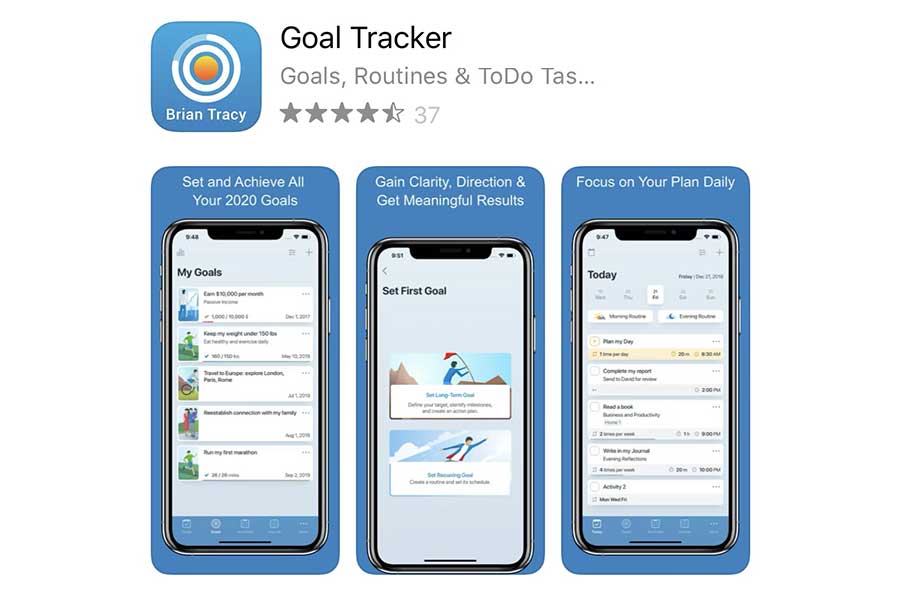 14. Goal Setting Tracker Planner
We have gone through a lot of different kinds of time management apps up to here, but the truth is, you need to set your morning/evening routines right in order to reach a work/life balance. Also, this app is designed in accordance with Brian Tracy's coaching program helping you decide what your priorities really are.
Some of the Current App Features: Journaling- Widget- Mood Meter- Sub-tasks Completion Counter- Night Mode- Long Term/Short Term Goal Planning- Recurring Tasks- Add Voice Memos/Pictures to Notes- Schedule Your Routines
Pros: Siri Shortcuts
Cons: Inability to Stop the Timer, Time Consuming, Android App is not Satisfactory
Competitors: Coach.me, Habit Tracker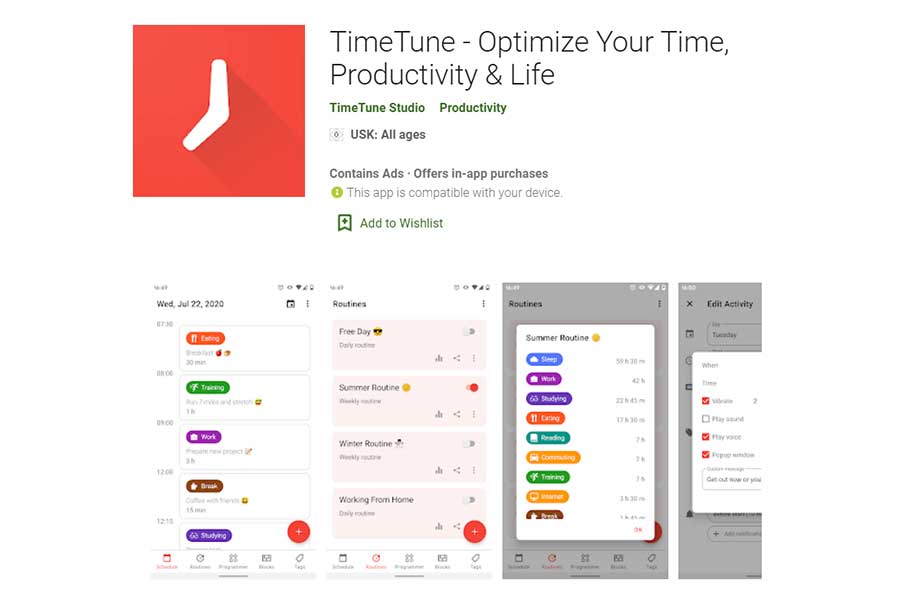 15. Time Tune
The last but not least app on our entire best time management apps is Time Tune. A very simple yet practical productivity app that divides your habits/tasks into time blocks, giving you the opportunity to set healthy routines and stick to them. Furthermore, your routines can be daily, weekly, or have an odd number of days which makes it a good choice for students, freelancers, and people who are working on shifts.
Some of the Current App Features: Time Boxing/Time Blocking- Routine Manager-Task Reminder- Time Table Planner- Habit Planner
Pros: Statistics Show Empty Time
Cons: Adding Subtasks/Editing a Routine for a Particular Day/The Ability to See the Overlaps in Events are not available right now
Competitors: Google Calendar, Loop Habit Tracker, Sectograph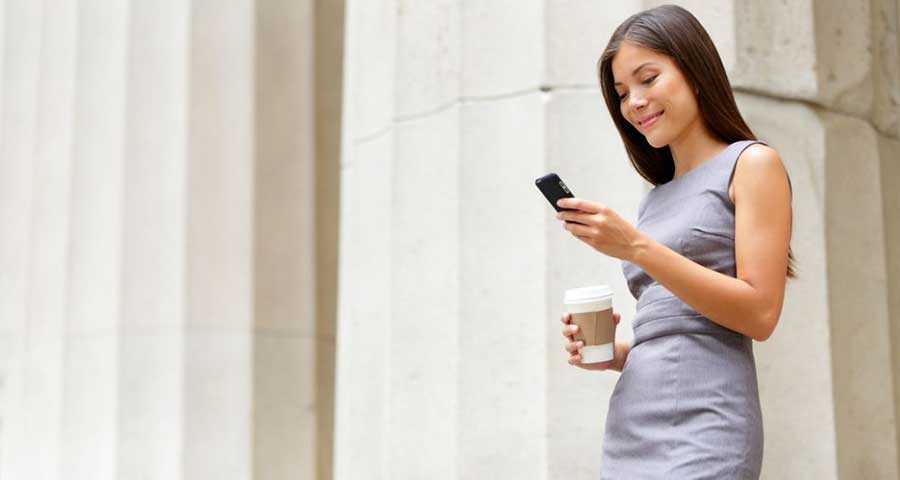 ---
Above all, there are so many different time management apps out there which makes it really difficult to choose from. Also, the good news is that a lot of these apps are free to some extent. You only need to decide what features suit you best and select the most valuable ones.
We hope you have an awesome time exploring our list of time management apps! Have fun and keep it productive!